F100E2003
---
Media Air Cleaner, 16x20, with W8600B RF AIRWATCH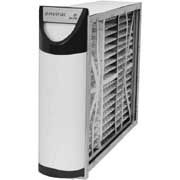 Overview
The F200E Media Air Cleaner captures a significant amount of the airborne particles from the air circulated through the unit. Recommended high efficiency media air quality product. The F200E Media Air Cleaner includes cabinet, access door and FC200E pleated media filter, and W8600B RF Airwatch Indicator.
Features
W8600B RF AIRWATCH filter change indicator included.

Integral pressure sensors signal when filter change is required based on increased pressure drop threshold at filter.

Filter change status is transmitted to wall-mounted RF AIRWATCH Indicator.

High efficiency charged-media filter captures particles as small as 0.3 microns.

Applicable to all gas, oil and electric forced air furnaces and to compressor cooling up to 5 tons.

Mounts in the return air duct.

Rugged zinc-coated, roll-formed cabinet resists corrosion and can support weight of residential furnace and evaporator coil.

Requires no electrical connections.

Mounts in any position.

Requires no maintenance except periodic media filter replacement.

Quick and easy media filter replacement.

Later upgrade to higher performing media or electronic air cleaner is easy.
Product Specifications

Description

Entry level Media air cleaner, 4 inch extended Media.

Application

Duct mounted

Dimensions (in.)

16 in. x 20 in.

Dimensions (mm)

406 mm x 508 mm

Airflow Max.-Capacity (cfm)

1200 cfm

Airflow Max.-Capacity (m³/hr)

2040 m³/hr

Efficiency Standard

Efficiency ratings are based on American Society of Heating, Refrigerating and Air-Conditioning Engineers Standard 52.2-1999.

Efficiency Standard

Efficiency ranges are defined for small particles, E1=0.3 to 1.0 microns; medium particles, E2=1.0 to 3.0 microns; and large particles, E3=3.0 to 10.0 microns.

Fractional Efficiency

E1=63%, E2=90%, E3=97%

Replacement Filters

FC100A1003, FC200E1003

Minimum Efficiency Reporting Value (Media Filters Only)

MERV 13

Static Pressure Drop (in. w.c.)

0.28 at 500 FPM

Additional Features

Type or Air Cleaner

Media Air Cleaner

Approvals, Underwriters
Laboratories Inc

Filter Element: UL Listed, UL900, Class 2

Tradeline Value

Tradeline